According to the official data, Amazon's revenue for the twelve months ending June 30, 2023, was $538.046 billion, with a 10.73% 1-year increase. Such income might seem like an unattainable goal for a small online bookstore, which gradually evolved thanks to new functionality and product range. Perhaps, you would like to repeat the success of the marketplace that made its founder, Jeff Bezos, the richest man on the planet, and launch an e-commerce marketplace? In this case, you should definitely check this online marketplace creation guide.
Understanding the Basics
Let's start with the basics and understand the essential concepts associated with online marketplace construction.
What Is An Online Marketplace?
An online marketplace is an e-commerce website that is a place for sellers to interact with buyers. All transactions carried out between these two parties are the responsibility of the marketplace owner.
Different Types of Marketplaces
There are several divisions of marketplaces by type:
According to item type:
According to the type of interaction between sellers and buyers:

online trading
online-offline trading

According to the type of parties involved in the transaction:

B2B (business to business)
B2C (business to client)
C2C (client to client)
Note that some marketplaces may combine several business models at once, so when choosing such combined models, you will need to provide functionality corresponding to each of the selected roles/item types.
Now, we invite you to move from theory to practice and look at the key steps that will lead you to answer the question about how to build an online marketplace website.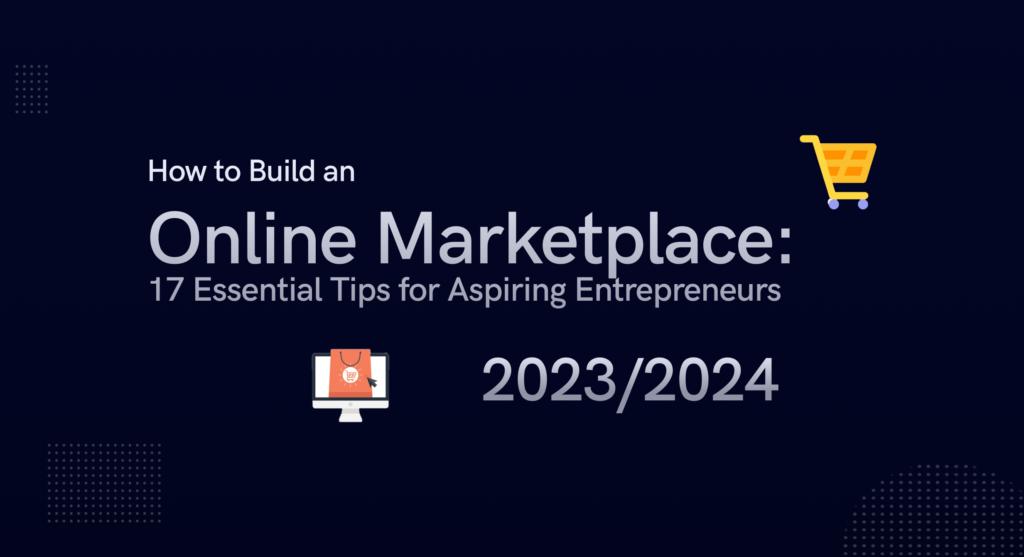 Tip 1: Identify Your Niche
We have already said above that there are several types of online marketplaces, but in addition to this aspect, you will also need to determine how you plan to scale your project in the future. The first option is to increase the number of types of products sold. For example, horizontal scaling is supported by such a well-known trading platform as Amazon. As for vertical scaling, it involves the evolution of the platform towards a single business niche or type of user. To understand which option is closer to you, you need to complete the following two recommendations.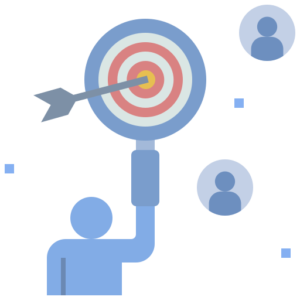 Researching Market Needs
Before you start to build an online marketplace, you have to analyze the market in which you are going to launch your project. What goods/services are most in demand? What products/services are not yet presented on the market and your marketplace would offer new opportunities to your audience? The answers to these questions will help you move in the right direction and formulate the concept of a truly popular marketplace.
Analyzing Competition
You will also need to find out which existing platforms are your direct competitors and, in particular, determine their strengths and weaknesses. This will help you formulate the requirements for your project and make it competitive.
Tip 2: Define Your Unique Value Proposition
A unique selling proposition in the context of building an online marketplace is the characteristics that distinguish it from competitors and make it noticeable in the market. It is noteworthy that these characteristics should also be valuable to the target audience. Let's find out how the formation of this proposition is implemented in practice.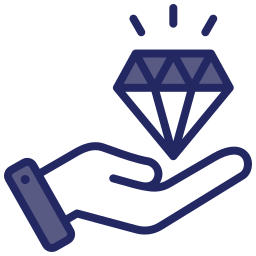 What Sets You Apart?
Think about what unique features you can implement in your software solution – perhaps it's AI-driven search, exclusively original products, bidding positions, or something else – the main thing is that your competitors don't have them, or they are implemented at an insufficiently high level.
Catering to User Needs
Think about how you can present these unique features to your target audience so that they see direct benefits in them? For example, if we are talking about AI-optimized search, you can demonstrate to your audience a comparison of how much time is spent both in regular search and AI-driven search (in the second case, users can see product selections based on their previous queries automatically).
Tip 3: Choose the Right Platform
So, let's find out what it takes to build an online marketplace. In general, today, there are many no- and low-code solutions that allow you to create marketplaces based on ready-made templates without knowledge (or with minimal knowledge) of programming languages. There is also the option of custom development when the platform is built using appropriate programming tools: libraries, frameworks, APIs, etc. – in this case, you will have to resort to professional marketplace development services. Depending on your business goals, you will have to choose either the first or second option.
Custom Development vs. Ready-Made Solutions
In general, ready-made online marketplace development tools have a lot of advantages: increased speed and ease of development, cost-effectiveness, and no need to hire a team of specialists and coordinate the process of their work. In particular, ready-made templates for marketplaces are provided by such platforms as WebFlow, Tribe, WooCommerce Marketplace, and dozens of others.
At the same time, you must understand that no matter what option you choose (a free webstore builder and an online marketplace framework on a paid basis), your capabilities will be limited, and all that you will be able to do without professional help is to set up digital marketplace template. The more advanced customization options require knowledge of development languages on the part of those who create the marketplace.
However, even in the case of choosing software for building an online marketplace, you may not achieve your goal as the platform, initially designed for a certain flow of customers, cannot be scaled to cover, for example, the needs of an international online store.
Platform Scalability
If you consider constant scaling of your marketplace, you should initially hire a development team. For example, if you decide to migrate it from a builder because its current version does not meet your current business needs, your development team will have to re-design a multi-vendor platform from scratch since the architectures of builders' templates are not well-suited for constant scaling and do not allow such a deep e-commerce marketplace setup.
Therefore, you will have to pay in full twice: the first time when you construct an online selling platform with a builder and the second time – when you develop an e-commerce site with your development team. And, of course, custom development will be the best choice for you if you want to implement some specific features, or the business logic of your project is too sophisticated.
Please note that before hiring, you should ask your future contractor questions like: "How long does it take to build an online marketplace?" and "How much does it cost to build an online marketplace?" – maybe the answers obtained will not meet your business goals.
Tip 4: Design an Intuitive User Interface
An extremely important aspect of developing an online marketplace is ensuring its usability – it will determine how quickly buyers will find the products they need and move further along the sales funnel. Many think that for this, they just need to come up with convenient and user-friendly design. But in reality, the design is just the tip of the iceberg, and this step is followed by many others, such as autoscaling, server-side rendering, mobile friendliness, etc.

Importance of User Experience
UX design plays an important role in achieving business goals as it improves customer satisfaction. Ultimately, this leads to increased traffic on your marketplace, which, in turn, allows you to increase your conversion rates.
Mobile Responsiveness
Also, the quality of user experience is affected by the ability to visit your marketplace from devices of various form factors without limiting access to any of its features. That is why more and more developers of such software choose the mobile-first approach.
Tip 5: Implement Secure Payment Gateways 
The reliability and convenience of your marketplace for making online purchases determine whether customers will want to return there again. So, what are the key considerations for building an investment marketplace online from this point of view?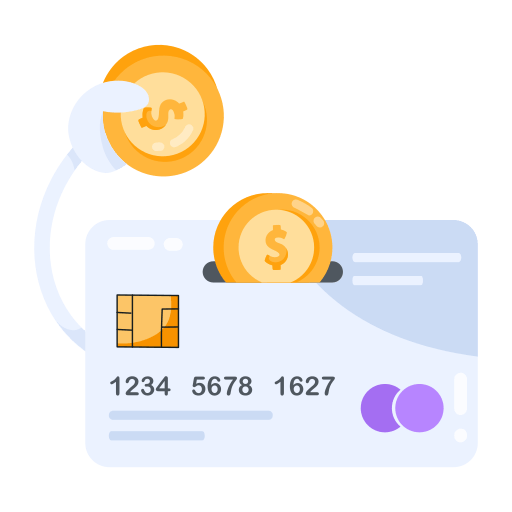 Trust and Security in Transactions
First of all, you will need to implement strong authentication – for example, through existing social media or email accounts or with a strong password. Also, you can introduce specific Know-Your-Customer (KYC) policies to identify and verify the client's identity at the checkout stage. This way, you will exclude the situations when fraudsters use stolen bank cards (or their details) to pay for goods.
Multiple Payment Options
For additional convenience for your customers, you can offer them several payment systems to choose from. The most popular ones are PayPal, Stripe, Skrill, Visa, American Express, Apple Pay, and 2Checkout.
Tip 6: Focus on SEO and Organic Growth
Once your marketplace is ready and you start filling it with content, you will need to take care of search engine optimization. Additionally, we note that some techniques that relate to SEO are applied at the development stage (for example, if your marketplace has a too-complex structure or unoptimized URLs, this will negatively affect its position in search results).
Importance of Search Engine Optimization
SEO is an important measure in promoting an online business. Such optimization allows your marketplace to reach the top of search results, attract more targeted traffic to it, increase its authority, and, in general, achieve your business goals.
Content Strategies for Marketplaces
As practice shows, effective content strategies for marketplaces never include only one type of optimization – they cover constant work on metadata, visuals, text content, keyword selection, etc. Note that all this should be aimed at increasing the usefulness of your platform for its target audience.
Tip 7: Foster Trust with Reviews and Ratings
Social proof is today perhaps the most powerful driving force for making a particular purchase in a particular place. People care what other people think about the products they are going to buy, and this aspect definitely should not be discounted.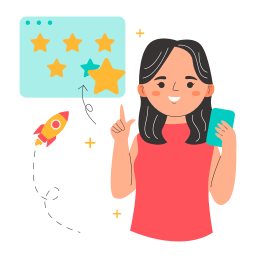 Building Community Trust
To engage your customers to trust you, you should provide them with convenient tools to express their own opinions – be it an opinion about products, sellers, or your marketplace as a whole. For this, developers usually provide fields with reviews of products and sellers, as well as various options for filtering and sorting items according to these parameters.
Handling Negative Feedback
When building an online marketplace website, you should also ensure the ability to quickly process negative feedback – for this, you can provide in a visible place the phone number of your call center, support service email, and other means for quick communication.
Tip 8: Offer Excellent Customer Support
If you look at the previous tip more globally, at some point, you will realize that traditional methods of handling the dissatisfaction of your customers may not be effective enough – this usually happens at some stage of scaling, when the number of customers grows, and the support center ceases to cope up to date with the workload.
Importance of Customer Satisfaction
Since these days, it is not enough to simply sell quality products and/or services, one of the main aspects that ensure competitiveness is aiming at customer satisfaction. For large marketplaces, this invariably means not only providing a superior user experience when interacting with the platform itself but also optimizing all processes that occur offline. Specifically, this can be achieved through integration with CRM systems.
Tools for Efficient Support
In addition to using CRM, you may also need further integrations with tools to automate some of your processes (for example, AI-based chatbots for instant assistance to customers, ERP systems for stock control, and so on).
Tip 9-17: Additional Tips for Success
Finally, let's check eight unobvious tips on how to build an online marketplace app to make it a leading solution in your niche.
Regularly Update and Improve
To keep your marketplace competitive over the long term, you will have to regularly analyze the market and update your solution in accordance with its current needs and trends.
Engage with Your Community
You can also get useful insights from your community of loyal (and not-so) customers, who will leave their feedback and suggestions in the appropriate form on your marketplace or personally in your email inbox.
Monitor Analytics and User Behavior
Don't forget to use additional analytics solutions that you can connect to your marketplace (for example, it may be Google Analytics). This tool, as well as some others, will help you track the behavior of your users and identify patterns that can be further simplified and shortened during design updates.
Consider Global Expansion
Sooner or later, your marketplace will need to scale, and you must be prepared for this in advance. In particular, you may have to initially choose an engine for your website that involves automatic localization for specific regions.
Legal Considerations
You will also need to coordinate your business activities with the legislation in the region in which your sellers will sell their products – in some countries, the lack of appropriate registration and, in particular, compliance with user data security policies such as GDPR and HIPAA entails huge fines.
Monetization Strategies
You will have to figure out in time how you can monetize your marketplace – perhaps it will be a commission for a completed transaction, a fee for placing a product, or something else (for example, advertising, promotion of specific products, etc.).
Marketing and Promotion
Think about how the promotion of seller profiles within your marketplace will work – we have already indicated above that you can provide them with the opportunity of paid advertisements that will be displayed in the top search results. However, in reality, there are many more options for such a promotion.
Stay Updated with Industry Trends
And, of course, don't forget to regularly expand the capabilities and functionality of your marketplace according to current trends – for example, during the COVID-19 pandemic, it could be contactless payment for goods to a courier.
Conclusion
We hope that we have helped you figure out how to build an online marketplace, and now, you have a complete understanding of what your development team will do. If you are looking for experienced specialists who will take responsibility for the implementation of your business idea or just would like to estimate the cost to build an online marketplace, feel free to contact us. We will create for you a scalable and competitive solution that will be fault-tolerant and reliable for its future users.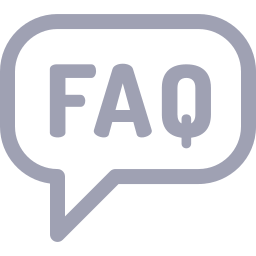 Frequently Asked Questions
To summarize the above, we propose to consider the answers to the questions most relevant to the digital marketplace foundation.
How important is the user interface in an online marketplace?
The user interface is important in terms of satisfying the needs and requirements of end users. In particular, an incorrectly created interface can destroy a business, and a professional approach to its development, on the contrary, ensures its stable growth.
Should I opt for custom development or use a ready-made platform?
When you decide to build an online marketplace website, you should assess its functionality, design, budget, and allowable time frames before its launch. According to this, you will be able to use a marketplace builder (for projects with ordinary functionality and a limited budget) or resort to the professional services of a development team.
How do I choose the right tech stack for my marketplace?
When you decide to establish an online trading platform, first, you need to determine the following factors that will become fundamental in the further selection of its technical stack:
– Project requirements and goals
– Scalability and performance
– Developer skills and availability
– Presence of unique/advanced functionality or sophisticated business logic
How can I optimize the performance of my online marketplace?
When you create an e-commerce platform, you must work on several aspects at once to ensure high performance:
– Minimizing delay at the moment when users initiate digital commerce site
– Minimizing latency when reusing preloaded templates
– Assessing the need for specific functions (if they are unnecessary, they may not be implemented)
– Ensuring offline operation
– Same performance on user devices in different form factors
– Testing for freezing and errors
How can I ensure efficient database management as my marketplace grows?
When you build an online vendor platform, you can follow these practices to ensure effective database management:
– Choosing the correct database model
– Data normalization and denormalization 
– Data indexing and partition 
– Database backup and restoring
– Database real-time monitoring